GREEK POTTERY PAINTING
The following notes and pictures are meant to introduce you to the painted pottery of ancient Greece: the historical development of the different techniques and styles of painting; the principal types of pottery and their uses; and some notable artistic examples. I will refer to some of this material in our discussion of archaic Greek culture.
For an introductory overview of Greek pottery painting, try the Beazley archive . For scenes from the ILIAD and the ODYSSEY on Greek pottery, check out the pages for David Fredrick's Greek and Roman mythology course at the University of Arkansas.
The Tampa Museum of Art has an excellent collection of Greek pottery with representative examples of different styles and of numerous types of pots.
HEPHAISTOS AND THETIS SHOWN ON A RED-FIGURE CUP:

KEY TERMS

STYLES AND TECHNIQUES:
-Protogeometric 1000-900 B.C.: pots were decorated with black bands, wavy lines and simple geometric designs, principally concentric circles and half-circles drawn with a compass and multiple brush; careful attention was given to the relationship between the decoration and the shape of the pot.
SAMPLE IMAGES:




1. PROTOGEOMETRIC AMPHORA 2. DETAIL OF CONCENTRIC CIRCLES
-Geometric 900-700 B.C.: an increasing variety of rectilinear ornaments (meander, "battlements", triangles, hatching etc.) cover a larger portion of the pot; simple figures of animals and human beings - reduced to geometric forms - appear on later examples; monumental kraters and amphoras were used as grave markers and decorated with schematic references to funeral ceremonies.
SAMPLE IMAGES: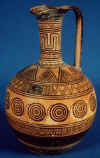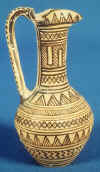 1. EARLY GEOMETRIC AMPHORA , 2. GEOMETRIC AMPHORA , 3. FUNERAL SCENE, 4. GEOMETRIC OINOCHOE , 5. GEOMETRIC OINOCHOE
-Orientalizing 700-600 B.C.: the style derives its name from the evidence it provides of Greek contacts with the older civilizations of the Near East; well-represented in Corinth, it is characterized by the use of decorative animal and floral forms; this period brought early experiments with the incised black-figure technique and with polychrome (multi-colored) decoration; in different Greek centers, there were experiments with narrative representations of myths and legends.
SAMPLE IMAGES: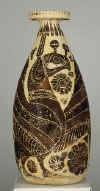 1. CORINTHIAN PYXIS with lions and siren, c. 600 B.C. 2. CORINTHIAN ARYBALLOS , c. 600-575 B.C. 3. CORINTHIAN ALABASTRON with griffin, c. 590-570 B.C. (Tampa Museum of Art!)

BLACK-FIGURE TECHNIQUE AND RED-FIGURE TECHNIQUE:
Black-figure technique was likely developed around 700 B.C. in Corinth, and it may have been inspired by carved ivories and engraved metals imported from the Near East. As the name implies, figures appeared, after the firing of the pot, as black silhouettes against the background of the light red or yellowish clay of the pot. Within the black figures, incised lines revealed the red clay beneath, allowing the artist to trace the inner details of the figure. Other colors - purple, white and yellow - were sometimes added for highlighting. This technique was adopted in other Greek cities, and, by the sixth century B.C., the Athenians surpassed the Corinthians in the production of black-figure pottery. Athenian ware was characterized by its shiny gloss and the brighter orange color of the clay. In the decoration of the pots, Athenian painters placed greater emphasis on human figures and narrative scenes.

The
red-figure technique
was invented in Athens c. 530 B.C. The figures remained in the orange-red color of the clay, and the surrounding background was turned to black by the firing of the pot. With this, the method of detailing the figures was changed dramatically. Instead of using a sharp tool to incise lines, the painters used a fine brush, pen or reed to apply lines of purplish, red and brown color for the inner details of the figures. The technique may have been inspired by low-relief sculptures in which marble figures were highlighted against dark blue painted backgrounds. Some scholars have compared both techniques to inlaid gold and silver vessels and tableware.
The website of the
Metropolitan Museum of Art
provides a fuller discussion of the making of black- and red-figure pottery.
TYPES OF GREEK POTTERY: SHAPES AND USES
For an excellent survey of the different shapes of Greek pottery, check out this frame from the Beazley archive :
The images of the different shapes link to additional illustrations and more complete explanations. The following are some of the most important types:
amphora: a tall, storage jar for oil, wine, olives, dry goods or grain
hydria : large, three-handled jar for carrying water: one handle was used for pouring, two handles for lifting
krater : a large bowl for the mixing of wine and water at the symposium or banquet
kylix: a shallow, circular, two-handled drinking cup - resembling a plate - on a narrow stem
oinochoe: a small pitcher used for pouring wine into the cups

EXAMPLES OF GREEK POTTERY PAINTING
-Dipylon amphora (Athens), grave-marker for a woman, geometric style, mid-8th century B.C.; Dipylon krater (Athens), grave-marker for a man, geometric style, mid-8th century B.C.
-Chigi vase, Protocorinthian oinochoe, c. 640 B.C., hoplite warriors, POLYCHROME (many-colored) decoration, possible influence of wall-painting
-fragment of a krater from Argos, mid-7th century B.C., blinding of the CYCLOPS by Odysseus and his men (image no. 1) :
-Protoattic amphora from Eleusis, grave-marker, mid 7th century B.C., blinding of the Cyclops (image no. 2)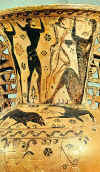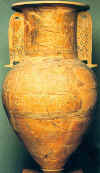 1. Argos krater 2. Eleusis amphora 3. Trojan horse
-amphora from Mykonos decorated in relief, mid-7th century B.C., the Trojan horse (image no. 3)
-Orientalizing pottery, examples from Rhodes and Corinth, late 7th century B.C., stags, sphinxes and other animals:





-Francois vase, Attic black-figure krater by Ergotinos (potter) and Kleitias (painter), c. 570 B.C., mythological scenes include stories of Theseus, the Calydonian boar-hunt (the story told by Phoinix in book 9 of the Iliad) and the wedding of Peleus and Thetis, the parents of Achilleus.
-Attic black-figure pottery: examples by the painter, EXEKIAS, include the dice-game of Aias and Achilleus, Aias carrying Achilleus' corpse (image no. 1) from the battlefield, and DIONYSUS on the boat, c. 530 B.C.
-Attic red-figure krater painted by EUPHRONIOS, c. 515 B.C., death of Sarpedon
-Attic red-figure amphora painted by EUTHYMIDES, signed "As never Euphronios", c. 510 B.C., drunken revellers (FOR A DRAWING OF THIS SCENE: CLICK HERE )
-Attic red-figure hydria by the Kleophrades painter, c. 490 B.C., sack of Troy
-Attic red-figure krater by the Pan painter, c. 470 B.C., Artemis slaying Actaeon (image no. 2)
-Attic red-figure krater by the Niobid painter, c. 440 B.C., Herakles (image no. 3) in the underworld, the slaughter of Niobe's children (image no. 4)
-Attic pottery of the fifth century on white ground with polychrome decoration





1. Aias and Achilleus 2. Artemis and Actaeon 3. Herakles 4. Niobe's children slain

OTHER TERMS: conceptual representation ( EXAMPLE ), simultaneous narration ( EXAMPLE )
COPYRIGHT NOTICE: SMALL, LOW-RESOLUTION THUMBNAILS HAVE BEEN USED ON THIS PAGE SIMPLY TO FACILITATE LINKS TO COPYRIGHTED IMAGES PUBLISHED ON THE WEBSITES OF THE PERSEUS PROJECT (TUFTS UNIVERSITY) AND THE GREEK MINISTRY OF CULTURE. IF THE COPYRIGHT HOLDERS BELIEVE THIS TO INFRINGE THEIR COPYRIGHT, THEY WILL BE REMOVED.

******************************************************************************
FOOD FOR THOUGHT? Early forms of writing in the ancient Near East (cuneiform and Egyptian hieroglyphics) were based upon pictures. Do we still use "picture-writing"? Think about the use of pictures as a form of short-hand writing in advertising and public signs, on the internet, or in text messages. Discuss and compare two or three examples of pictographs or visual symbols in today's world. How do they get and convey their meaning? Do they form part of larger systems of symbols or "picture languages"?
******************************************************************************
******************************************************************************
FOOD FOR THOUGHT
Homer describes the scenes on the shield of Achilleus in great detail, and his verbal description provides many details that might not be easily represented or understood in a picture. He reminds us that he is describing an object by mentioning the metals of the shield, but he rarely refers to the location of the scenes on the shield. Can you make a diagram of the layout of the scenes on Achilleus' shield? How would your arrangement help a viewer to understand and interpret the scenes on the shield?
******************************************************************************
SCHEDULE OF READINGS
(Monday/Wednesday)
SCHEDULE OF READINGS
(Tuesday night)
HUM 2211 HOME PAGE